All

Deals

Coupons

Sales

Expired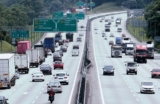 Toll-Free Travel on PLUS Highway for Chinese New Year on 20 - 21 Jan 2023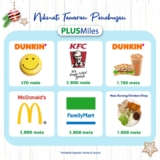 Want to liven up your holiday this time? Enjoy the PLUSMiles Reward Points redemption offer!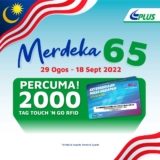 Siapa CEPAT, dia DAPAT! Sempena Hari Kebangsaan ke-65, PLUS ingin memberikan Tag Touch 'n Go RFID secara PERCUMA kepada 2000 Rakyat Malaysia yang bertuah. ...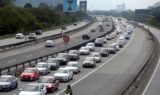 PLUS Malaysia Berhad (PLUS) welcomes the move to give toll waiver to Keluarga Malaysia plying the PLUS highway network on April 30, May 1, May 7 and May 8 in ...
Toll fare waived at land border crossing toll plazas between Malaysia & Singapore at Bangunan Sultan Iskandar and Tanjung Kupang Toll Plazas only - Highway ...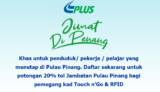 20% DISCOUNT FOR riders at PENANG BRIDGE TOLL PLAZA Bilakah PLUS akan mengaktifkan Diskaun 20% RFID kepada pelanggan yang layak di Plaza Tol Jambatan Pulau ...