All

Deals

Coupons

Sales

Expired
Featured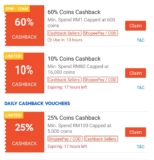 100PLUS, 4Fingers Crispy Chicken, 7-Eleven, 99 Speedmart, A'Famosa Theme Park, A&W, Absolute Thai, Adidas, Adventure Waterpark Desaru Coast, AEON, AEON Credit Service, Affin Bank, Agoda, Ah Cheng Laksa, Ahh-Yum, Air Selangor, AirAsia, Airbnb, Airpaz, Ajinomoto, AKEMI, Al-ikhsan, Alat Dapur, Alcosm, ALDO Shoes, Aliments, Alliance Bank, Allianz, AllYoung, Alpro Pharmacy, Althea, Amazeam Mattress, Amazin' Graze, Amazon, AmBank, Anakku, Anmum, ANTA, Apple, Armani beauty, ASICS, Astro, Atome, Audrey, Auntie Anne's, Austin Heights Water & Adventure Park, Avani Sepang Goldcoast Resort, Aveeno, Ayam Brand, Ayamas, Babylove, Baker's Cottage, Bananabro, Bangi Wonderland, Bank Islam, Bank Rakyat, BarBQ Plaza, Bare For Bare, Baskin Robbins, Bata, Bath & Body Works, Batik Air, Bee Cheng Hiang 美珍香, Beep, Beli, Berjaya Sompo, Berjaya Times Square Theme Park, Bershka, Beryl's, Beutea 茶仙子, BHPetrol, Big Apple Donuts & Coffee, BIG Baby Expo, Big Bad Wolf Books, Big Fish Small Fish, BIG HOME Expo, Big Pharmacy, BigPay, Billion, Bio-Life, Birkenstock, Bjak, Black Whale, Blackmores, Boat Noodle, Body Glove, BONIA, BonusLink, Book Depository, Booking.com, BookXcess, Boost, Boost Juice, Borneo Cultures Museum, Borneo Samariang Resort City, BP Healthcare, Brands Outlet, Braun Büffel, Bread History, BreadStory, Brooks Running, Bukit Gambang Water Park, Bungkus Kaw Kaw, Burger King, Burgertory, Bus Online Ticket, Caffe Bene, Cake Together, CakeRush, Caltex, CARiNG Pharmacy, Carl's Jr, Carlo Rino, CarSome, CelcomDigi, CHAGEE 霸王茶姬, CHANEL, Charles and Keith, Chatime, Cheetah, Chili's, Chizu, Chun Yang Tea, Chun Yang Tea 春陽茶事, CIMB Bank, Citibank, City Chain, Clarins, Clarks, Clinique, Club 21, Club Med, Coach, Coca-Cola, Coffee Bean & Tea Leaf, Cold Storage, Colgate, Comfort Republic, CompareHero, Converse, Coolblog, Costa Coffee, Cotton On, COURTS, Crabtree & Evelyn, Crocs, CTOS, CU, D ' Laksa, Daboba, Daily Coffee, Darlie, Dave's Deli, DayOne DayOne小時光 銷魂麺舖, Decathlon, DEKÕRI, DeliverEat, DeliverIn, Dell, Dermalogica, Design Village Outlet Mall, Dewan Bandaraya Kuala Lumpur, Dfenze, DHL, Diamond & Platinum, Dockers, Doctor2U, Domino's Pizza, DON Coffee, DON DON DONKI, Dr Cardin, Dr Mister, DubuYo, Dunkin', Durian King TTDI, Dutch Lady, Dyson, Each A Cup, EASI百家外卖, EasyBook, EasyParcel, Eat Cake Today, eco-shop, ecoBrown's, Econsave, ED Labels, Eggette Lab, Electrolux, Elianto Make Up, emart24, Empire Sushi, Enfagrow, Entopia, Escape Theme Park Penang, Estee Lauder, ETUDE, Eubiq, Eucerin, Exabytes, Expedia, Ezerra, F.O.S, F&N, Face Republic, Family Store, FamilyMart, Famous Amos, Farm Fresh, Farm In The City 城の农场, Fashion Fast Forward, Fatberry, Fave, Fipper Slipper, Firefly Airlines, Fish & Co., FitFlop, FITGEAR, Fitness Concept, Five Guys, Flip Burger, FlowerAdvisor, Focus Point, FoneApp, FoodieMart, FoodPanda, Forever21, Fossil, FOTILE, Freeport A'Famosa Outlet, Fresh, Fried Chicken Master, Friso Gold, Fuel Shack, Fujitsu, FunNow, FWD Takaful, Gardenia, GDeal, Genki, Genting Highlands Premium Outlets, Genting SkyWorlds Theme Park, GEOX, Giant, Gigi Coffee, Gindaco, Giordano, Gloria Jean's Coffees, GM Klang, GO Noodle House 有間麵館, Go Shop, GoCar, Godiva, GoInsuran, Gokingkong, Golden Screen Cinemas, Gong Cha, Goodnite, Grab, Grabmaid, Great British Circus, Guardian, GUESS, H&M, Haagen Dazs, HABIB Jewels, Hada Labo, Hai-O, Haidilao, Halo Delivery, Happikiddo, Happy Bunch, HappyHome, Harvey Norman, Hasbro, Health Lane Family Pharmacy, Hello1010, Herbs of Gold, Hermo, Hermonisse, HeroMarket, Hey! I am Yogost 我是酸奶君, HeyCha, HEYHO, Himalaya, Hokkaido Baked Cheese Tart, Home's Harmony, HOMElove Home Expo, HomePro, HOMESOY, Honda, Hong Leong Bank, HONOR, Horlicks, Hotels.com, Hotlink, HP, HSBC, HTM Pharmacy, Huawei, Hush Puppies, HWC Coffee, iHerb, IKEA, Inner Statement, innisfree, Inside Scoop, Isetan, Italiannies, iTworld, J.CO Donuts & Coffee, Jaya Grocer, JD Sports, Jean Perry, Johnson & Johnson, Johor Premium Outlets, Jollibee, Jom Chá by Farm Fresh, JPJ, Juice Works, JUICY, K Fry, K Market, KANIKA, Kaodim, kasut U, Kate Spade, Kate Spade New York, Katrin BJ, Kenny Rogers ROASTERS, KFC, KidZania Kuala Lumpur, Kiehl's, Kinokuniya, Kitchen Shop, KK Super Mart, KKDay, KLIA Ekspres, Klook, KOI Thé Malaysia, Komugi, Kose, Krispy Kreme, KTM, KyoChon, L'occitane, La Juiceria Superfoods, La Senza, LAC, Lactel, Lalamove, LaLaport BUKIT BINTANG CITY CENTRE, LamboPlace, Laneige, Lazada, Leather Avenue, LEGO Certified Store, LEGOLAND, Lenovo, Levi's, Lexis Hibiscus Port Dickson, Lexis Suites Penang, Lipton, LISTERINE, llaollao, LOLOL, Loong Kee, Lotus's, Love Earth, Love, Bonito, LS Mart Pasaraya, Lulu Hypermarket, Luno, M·A·C Cosmetics, Mac City, Machines, Maggi, Magicboo, Malatoop, Malaysia Airlines, Malaysia Airports, Malindo Air, MamyPoko, MarryBrown, Massimo Dutti, MasterCard, MATTA Fair, Mattel, Mattress Premium Outlet, Maxis, Maybank, MBO Cinemas, MBSB Bank, McDonald's, Me'nate Steak Hub, Medela, MEDICOS, MediHeal, Megahome, Melaka Wonderland Theme Park & Resort, Melium Outlet, Memang Meow Kopitiam, Mercato, Metrojaya, Michael Kors, Milliot & Co., Milo, Mitsui Outlet Park KLIA Sepang, MIXUE 蜜雪冰城, mmCineplexes, MOG EYEWEAR, Mokti's, Morganfield's, Mothercare, Motherhood, Mountain Dew, MPH, MR DIY, MR Dollar, MR TOY, MUJI, MULA, Muyogi, MYAirline, myBurgerLab, MyCar, MYDIN, MyEG, MyeongDong Topokki, Mykori, MyLaksa, MyNews.com, Myoto, Myprotein, myTukar, Nadeje, Nam Heong, Nando's, NeNe Chicken, Nestle, New Balance, New York Skin Solutions, Nike, Ninja Van, NMooMoo, NSK, Nutrilite, NY Burger Co., NY Steak Shack, O bag, O'Briens Irish Sandwich Cafe, OatStory, OCBC Bank, OGAWA, OlarMe, OLDTOWN White Coffee, Oloiya 我来也, One Living, OneZo, OPPO, Optical 88, Origins, OSIM, Ostrich2u, OURSHOP, Oxwhite, OYO, Pacific Wise, Padini, Panasonic, Pantai Hospitals, Parkson, Pathlab, PAYLATER, PDRM, Perk Coffee, Perodua, Petron, PETRONAS, Pets Wonderland, Petsmore, PG Mall, Photobook, Pick A Trip, Pigeon, Pizza Hut, PLUS, PMG Pharmacy, Poh Kong, PolicyStreet, Pomelo Fashion, Poney, Pop Meals, POPLOOK, Popular Bookstore, Printcious, PRISM+, Proton Cars, PTPTN, PTT Outdoor, Public Bank, Pull&Bear, PUMA, PURINA, Qoala, QV Skincare, RB, realme, Red Box Karaoke, Red Lobster, redBus, Regiustea, renoma, Res I Toe I Run, Resorts World Genting, RHB, RinggitPlus, Rollney, Rookie, Royal Sporting House, RoyalePharma, Russell Taylors, Sacoor Outlet, Safi, Saigon Bowl, Sakae Sushi, Samsonite, Samsung, San Francisco Coffee, Sangkaya, Santan, Sasa, Scott's, Secret Recipe, SENHENG, SenQ, Seoul Garden, Sephora, Setel, SHEIN, Shell, Shiseido, Shizens, Shopee, Shoppers Hub, Signature Market, Simple Skincare, Sisley Paris, Skechers, Smartbite, SOCAR, SOGO, Sonno, Sorella Lingerie, SOTHYS, Spade's Burger, SPAO, Speedoc, Sport Planet, Sports Direct, Spritzer, SSF, St. Presso Coffee, Standard Chartered Bank, Starbucks, Strawberrynet, Street Churros, Streeto Pizza, Subway, SugarBun, Suki-Ya, Sulwhasoo, Sunway, Sunway Lagoon, Sunway Lost World Of Tambun, Superdry, Sushi Jiro, Sushi King, Sushi Mentai, Sushi Tei, Sushi YA, Sushi Zanmai, Sweet Cherry, Switch, Taobao, TapaoFood, Tastefully Food Expo, TCE Baby, Tealive, Tefal, Telekom, TENA, Texas Chicken, TF Value-Mart, TGI Fridays, TGV Cinemas, The Alley 鹿角巷, The Body Shop, The Chicken Rice Shop, The Manhattan FISH MARKET, The Outnet, The Star, The Store, The TOP Penang, THEFACESHOP, TheLorry, Tiger Brokers, Tiger Sugar, Timberland, Time Galerie, Tokyo Secret, TOMEI, Tony Roma's, Tory Burch, Touch 'n Go eWallet, TOY WORLD, Toyota, Toys'R'Us, Trapo, Traveloka, TREVO, Trip.com, Triumph, TrueMoney, Tune Hotels, Tune Protect, U Mobile, Uncle BOB Fried Chicken, unifi, UNIQLO, United Overseas Bank, Universal Traveller, UOB, Urban Republic, US Pizza, Valentino Rudy, Valiram, Versa, Victoria's Secret, vida, Vietjet, Village Grocer, Vinda, Visa, VitaHealth, vivo, Vivo Pizza, Wacoal, Wagyu More, Walkers, Wall's, Watsons, Wet World Water Parks, WhatIF Foods, Wise, Wonderfly, WOWshop, XES Shoes, Xiaomi, Xing Fu Tang, XIXILI, XOX, XPPen, Yomie's Rice X Yogurt 有米酸奶, Youbeli, YouGov, Young Yogurt, Zalora, Zara, ZCITY, Zoo Negara, Zoo Teruntum, ZUS Coffee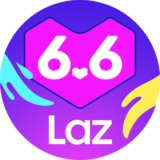 Lazada 6.6 Mega Super Wow Sale 2023 Voucher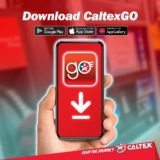 CaltexGO mobile app is now operational at selected Caltex stations across Malaysia! Download on Google Play Store or Apple App Store to enjoy RM5 cashback with ...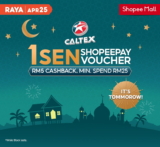 Starting from 1 May 2022, Caltex petrol stations is giving RM5 cashback for every purchase made through ShopeePay. This promotion is available to all ...
Looking for a petrol station that offers great deals? Look no further than Caltex! From now until limited time offer, get RM8 cashback with a minimum spend ...