All

Deals

Coupons

Sales

Expired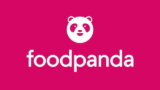 Unlock Fantastic Savings with Foodpanda Voucher December 2023: Up to RM12 Off Your Orders!
Featured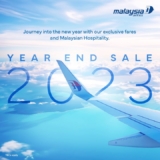 Malaysia Airlines invites you to seize the sky with remarkable offers in their Year End Sale 2023. Experience exceptional value on travel with one-way fares ...
Featured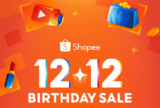 Celebrate Shopee's 12.12 Birthday Sale 2023 with Unbelievable RM25 Voucher Codes !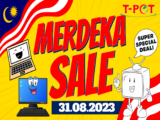 𝐓-𝐏𝐎𝐓 𝐌𝐄𝐑𝐃𝐄𝐊𝐀 𝐒𝐀𝐋𝐄 𝟐𝟎𝟐𝟑 32" TV from only RM189, Full Set PC from RM199, Laptop from RM249 and MORE!! Come and look for our electrical items, we have ...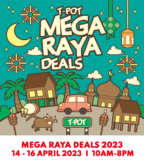 Wondering where to shop for the Raya season? Mark your calendars! The 𝐓-𝐏𝐎𝐓 𝐌𝐄𝐆𝐀 𝐑𝐀𝐘𝐀 𝐃𝐄𝐀𝐋𝐒 is happening on 𝟏𝟒-𝟏𝟔 𝐀𝐏𝐑𝐈𝐋 𝟐𝟎𝟐𝟑.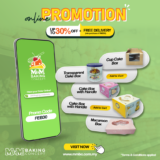 BAKING SUPPLIES ONLINE SALES UP TO 30% OFF! Restock your baking ingredients and baking kits with just a few clicks! USE CODE: FEB30 to get 30% off Get ...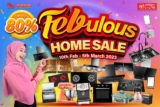 It's a 𝐅𝐞𝐛𝐮𝐥𝐨𝐮𝐬 month for a kitchen & bathroom makeover! Get ready to upgrade with our 𝐅𝐞𝐛𝐮𝐥𝐨𝐮𝐬 𝐇𝐨𝐦𝐞 𝐒𝐚𝐥𝐞 From 𝟭𝟬 𝗙𝗲𝗯 - 𝟱 𝗠𝗮𝗿𝗰𝗵 𝟮𝟬𝟮𝟯 Huge 𝗗𝗶𝘀𝗰𝗼𝘂𝗻𝘁𝘀 ...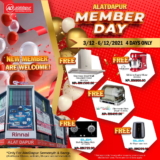 ???????????????? ???????????????? AlatDapur ???????????????????????? ???????????? of the year is Coming!! Exclusively for our value members!! ...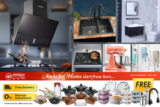 Home remodeling is the best way to turn our house into 𝐀𝐦𝐚𝐳𝐢𝐧𝐠 𝐡𝐨𝐦𝐞! 𝐊𝐢𝐭𝐜𝐡𝐞𝐧 𝐫𝐞𝐦𝐨𝐝𝐞𝐥 makes cooking process a lot fun & easier. 𝐁𝐚𝐭𝐡𝐫𝐨𝐨𝐦 𝐫𝐞𝐦𝐨𝐝𝐞𝐥 will ...