If you are a Hong Leong bank cardholder, you can avail of a RM5 voucher to be used at Giant Supermarket. The voucher is valid from April 01 to May 31, 2022 !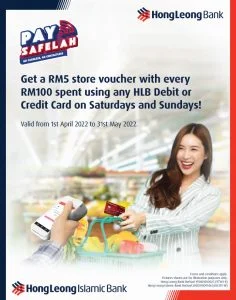 What is the Giant RM5 Voucher Campaign?
This Campaign is offering HLB Cardholders the opportunity to be rewarded with a RM5 Giant voucher when they make a purchase using any HLB Card at Giant outlets nationwide on Saturdays and Sundays.
Who can participate in the campaign?
The campaign is open to all cardholders ("Cardholders") of Hong Leong Bank Debit Card/Hong Leong Islamic Bank Debit Card-i and Hong Leong Bank Credit Card ("Card").
How long will these campaigns be running for?
The campaign will run every Saturday and Sunday beginning 1st April 2022 to 31st May 2022. The availability of the vouchers to Cardholders will be on a first-come, first-served basis and while stocks last.
How does it work and how do I participate?
HLB Cardholders will be able to redeem a RM5 Giant Voucher with every RM100 spent using a HLB Card at Giant outlets nationwide in a single receipt. For clarification:
No
Scenario
Voucher Entitlement
1
Cardholder A purchases items amounting to RM175 using a HLB Card

One (1) Unit of RM5 Giant Voucher
2
Cardholder B purchases items amounting to RM307 using a HLB Card

Three (3) unit of RM5 Voucher totally to RM15
3
Cardholder C purchases items amounting to RM84 at 1.00pm using a HLB Card

Cardholder C also purchases items amounting to RM24 at 1.35pm using a HLB Card

In total Cardholder C has spent RM108

Not Applicable as the Customer is required to spend a minimum of RM100 in a single receipt.