Resorts World Genting – Genting SkyWorlds Theme Park Ticket Price 20  Off Promotion with purchase online ticket at Lazada. Experience the thrill of a lifetime at Resorts World Genting's newest and most exciting theme park, Genting SkyWorlds! Purchase your tickets online now at Lazada and get discounts of up to 20% off the regular price.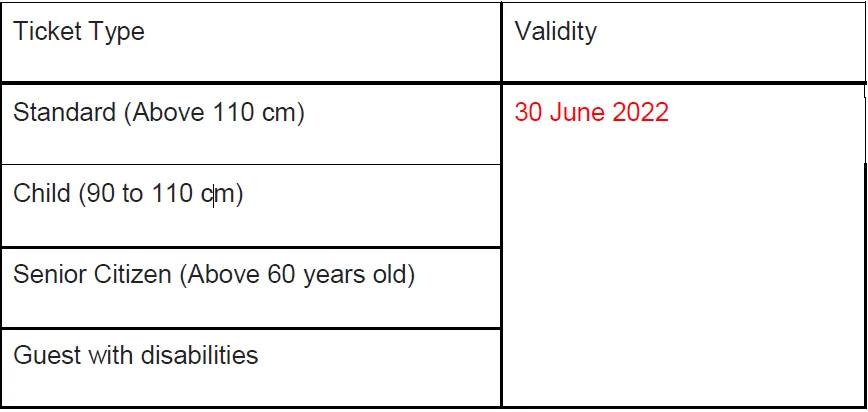 Claim here
Ticket inclusive of complimentary up to six(6) VQ reservations & Complimentary Photo + Access(download & share unlimited digital photo contents
Note :
● Photo+ is a one-of-a-kind photo experience that uses cutting-edge technology to capture your priceless memories of you and your loved ones during your Genting SkyWorlds visit.
● VQ (Virtual Queue) – Make VQ reservations to minimize ride wait times and optimize your park visit with just a tap of your finger!
Highlights: Genting SkyWorlds is Southeast Asia's most anticipated theme park. As part of Resorts World Genting's integrated entertainment line-up, the outdoor theme park is built across 26 acres of land and features 26 rides and attractions suitable for everyone in the family, catering to visitors of all ages. Genting SkyWorlds will take visitors on a sky-high adventure through nine movie and adventure-inspired "worlds"- Eagle Mountain, Central Park, Liberty Lane, Robots Rivet Town, Andromeda Base, Ice Age, Studio Plaza, Epic, and Rio. Each world features a host of exciting rides and attractions – specially curated and designed to send imaginations soaring through an immersive experience. This is complemented by a unique array of themed retail, dining and entertainment experiences, providing a truly holistic and unforgettable experience for the entire family.
Terms & Conditions:
● 1-DAY TICKET (STANDARD/CHILD/SENIOR/GUEST WITH DISABILITIES)
● The ticket is valid until 30 June 2022
● Certain rides, attractions, entertainment, restaurants, or other offerings may be unavailable, modified, or operating at reduced capacity.
● All selling prices are in Malaysian Ringgit (RM) and inclusive of Entertainment Duty.
● Definitions of Tickets: ○ FREE park admission applies to children below 90cm in height
○ Standard: Guest with a height above 110cm
○ Senior: Guests aged 60 years or above
○ Guests with Disabilities: Guests with disability certificates
● The use of the venue Ticket(s) and/or entry to Genting SkyWorlds implies your acceptance of the General Ticketing Terms & Conditions and Rules & Regulations.
● No request for change of the validity date of the purchased Tickets shall be entertained.
● The Tickets are strictly non-transferable, not for re-sale, exchange and/or non-refundable under any circumstances, including external factors beyond our reasonable control (e.g. haze, inclement weather, governmental acts, acts of God, riots or strikes) and will be void if altered, defaced and/or tampered.
● All guest(s) must retain their confirmation email(s) for inspection purposes when required
● These Terms and Conditions shall be governed by and construed in accordance with the laws of Malaysia and you hereby agree to submit to the exclusive jurisdiction of the courts of Malaysia.
● All guest(s) must comply with the terms and conditions stipulated and adhere to all Genting SkyWorlds' Rules and Regulation as stipulated in www.gentingskyworlds.com/rules-regulations.
● Other operating Terms and Conditions may apply.
Guest Redeem Deals & Vouchers:
● Guest is to present the QR Code in the Lazada apps at Genting SkyWorlds Theme Park Ticketing Counter to exchange with admission ticket.
● Guest is to scan the admission ticket and link to Genting SkyWorlds mobile app and scan at the turnstile, register biometric before entering to the park.
● Guest is only able to book the VQ (Virtual Queue) Reservation once they link their admission ticket into Genting SkyWorlds mobile app on their visit date.
● Guest that do not download the Genting SkyWorlds mobile app, they MUST retain their admission ticket for multiple re-entries to the park.
● TIPS! Download Genting SkyWorlds mobile app from AppStore / PlayStore App Gallery before visiting Genting SkyWorlds.
● The voucher is valid any time before the validity ends. Please check the validity of the ticket before completing the purchase


Genting SkyWorlds Theme Park Ticket Price 20% Off Promotion