Starting from 7th Feb, you can enjoy extra value with your Visa card! Spend a minimum of RM10 with Visa on Order & Collect to redeem exciting McD rewards for FREE! Here's how to get your FREE Weekly Rewards: Redeem the Reward under Deals page with Order & Collect and pay using Visa card with minimum spend of RM10 in a single transaction through the McDonald's App.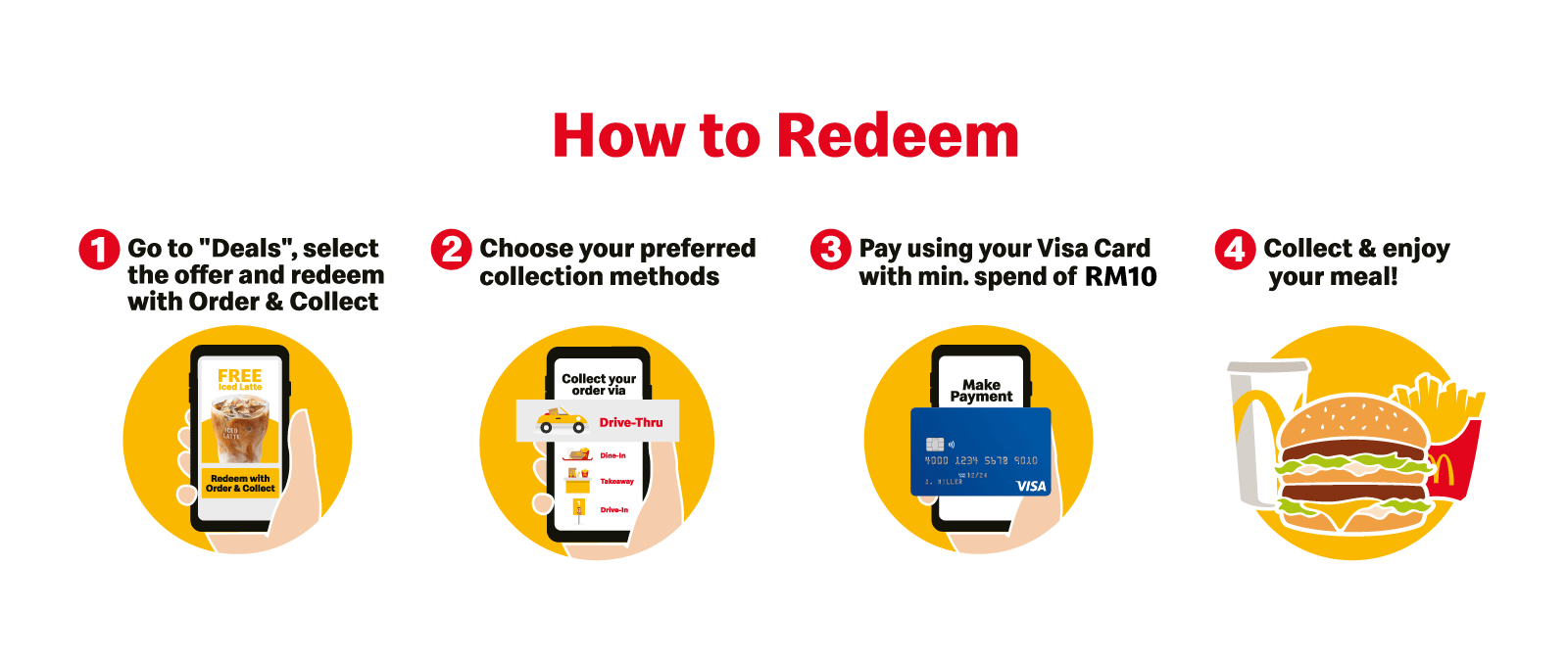 Limited to 1 redemption per week for each customer. Terms & Conditions apply.
For a more rewarding experience, the minimum spend amount has been revised to RM10 starting 7th February 2022. The relevant clause(s) have been incorporated into the campaign's Terms and Conditions.
The Weekly Rewards are shown as follows:
| | | |
| --- | --- | --- |
| Campaign Week(s) | Date(s) | Weekly Reward(s) |
| Week 1 | 10th January 2022 – 16th January 2022 | McChicken |
| Week 2 | 17th January 2022 – 23rd January 2022 | 4pcs Chicken McNuggets |
| Week 3 | 24th January 2022 – 30th January 2022 | 1pc Ayam Goreng McD Spicy/ Regular |
| Week 4 | 31st January 2022 – 6th February 2022 | Sundae Chocolate/ Strawberry |
| Week 5 | 7th February 2022 – 13th February 2022 | Iced Latte (M) |
| Week 6 | 14th February 2022 – 20th February 2022 | Oreo McFlurry |
| Week 7 | 21st February 2022 – 27th February 2022 | Cappuccino (S) |
| Week 8 | 28th February 2022 – 6th March 2022 | Spicy Beef with Cheese |
Offer valid from January 10, 2022 00:00 GMT – March 6, 2022 16:00 GMT