Maxias biggest sale of the year is here ! There's never been a better time to score the perfect device. Don't miss out.
Looking for the perfect device for your ever growing family's needs? The Maxis Biggest Sale is here, with perfect devices for your family!
Enjoy home devices such as TV, laptop, tablet and more from just RM1/month with Maxis Home Fibre. You don't want to miss this!
Diverse Devices
A wide range of the latest home and mobile devices
Choose from a variety of brands such as Samsung, Apple, OPPO, vivo and more.
Perfect Match
Your perfect match, from RM1
Want a new smartphone, tablet or TV with the best deal in town? We've got you.
The right device with the right plan
Whichever plan you get, you'll be sure to stay connected always on Malaysia's No. 1 network.
The perfect time to grab the perfect device with the perfect plan.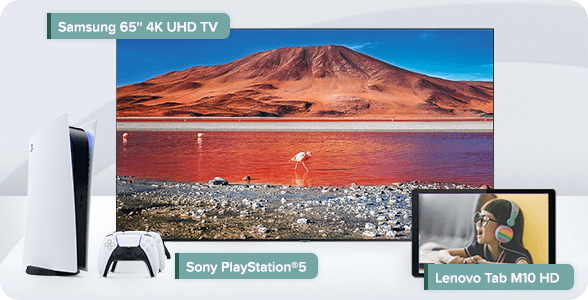 Home devices from RM1/mth
Own the latest Samsung TV and iPad with zero barriers on Maxis Home Fibre.
Choose from a wide range of the latest mobile devices including 5G smartphones and tablets on Maxis Postpaid.
Up to 70% OFF on the latest phones
Enjoy the latest devices with zero advance payment on an easy 12 months contract with Hotlink Postpaid.
More information available at https://www.maxis.com.my/en/campaigns/maxis-biggest-sale/