Exclusively on 20 August 2022: Get an Ice Blended for only RM0.50 at the Coffee Bean & Tea Leaf with HLB Cards. Offer only available from 11am to 2pm.
Enjoy amazing deals when you PaySafeLah with your HLB Cards today!
modern lifestyle? Revel in never-ending perks when you spend with your
HLB Credit, Debit or Debit Card-i at our partnered merchant outlets.


Enjoy exclusive offers from these merchants on selected Saturdays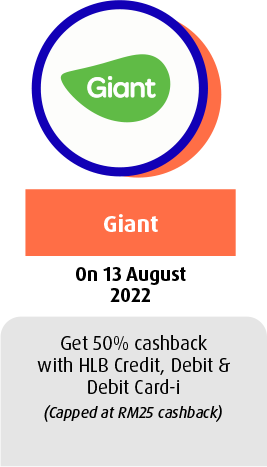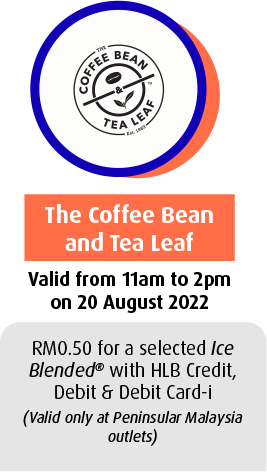 Giant
(a) Cardholders who make payment using the Card will be rewarded with 50% cashback with no
minimum spend, capped at RM25. For the avoidance of doubt, Card refers to any Hong Leong
Bank Credit Card, Debit Card and Hong Leong Islamic Bank Debit Card-i.
(b) This promotion is applicable at all Giant outlets nationwide.
(c) This promotion is only limited to one (1) redemption per cardholder. For avoidance of doubt, in
cases where Cardholder performs multiple transaction, cashback will only be fulfilled for the
first or the earliest transaction performed.
(d) Cashback will be rewarded to Cardholders on a first come, first serve basis.
(e) The total Cashback pool allocation is capped at RM30,000 throughout the Campaign Period.
HLB has no obligation to inform the Cardholders should the Cashback pool allocation reach its
limit.
(f) The Cashback will be directly credited into the Cardholders CASA/CASA-i or Card accounts
within thirty (30) days from the date of the promotion.
(g) This promotion is only available on 13 August 2022.
(h) This Offer is subject to any applicable tax unless otherwise stated.
(i) This Offer is not exchangeable for cash or other items and cannot be used in conjunction with
any other discounts, privileges, promotions, discount schemes, loyalty programs, discount
cards or vouchers unless otherwise stated.
8
HLB CARD OFFERS ("OFFERS") HONG LEONG BANK BERHAD AND HONG LEONG ISLAMIC
BANK BERHAD CARDHOLDER DEALS TERMS AND CONDITIONS
Updated on: 01 August 2022
Important Notes:
● By participating in these Offers, the Cardholders are deemed to have read, understood and
agreed to be bound by all T&Cs in this document and agree to be bound by the terms and
conditions governing the respective promotions set out by the merchant(s) (if any).
● The Offers offered by merchants via Hong Leong Bank Berhad ("HLB")/Hong Leong Islamic
Bank Berhad's ("HLISB") (collectively referred to as "the Bank") are applicable to all cardholders
("Cardholders") of Hong Leong Bank Debit Card/Hong Leong Islamic Bank Debit Card-i and
Hong Leong Bank Credit Card ("Card").
● The Offers cannot be exchanged for cash, cheque, or in kind and is not transferrable to any
third party.
● The Offers cannot be used in conjunction with any other discounts, privileges and promotions
unless otherwise stated.
● All monetary denotation will only be in Ringgit Malaysia ("RM").
● The merchants and the Bank reserve the right to change these terms and conditions at any
time by publishing the updated terms and conditions on the Bank's website.
● The Bank is not affiliated with the merchant(s) and makes no representation or warranty with
respect to the quality and suitability of products and services offered. The Cardholders shall at
their own cost and expense, refer to the respective merchant(s) for any changes, losses or
damages resulting from these offers without recourse to the Bank.
● In the event of any discrepancies between these T&Cs as compared to the advertising,
promotional, publicity and other materials relating to or in connection with this Campaign and/or
Promotion, the final T&Cs advocate by the respective merchants shall prevail.
● All pictures shown are for illustration purposes only.
CBTL
(a) Cardholders who make payment using the Card will be eligible to purchase one (1) small Ice
Blended® beverage at any The Coffee Bean & Tea Leaf outlets in Peninsular Malaysia for only
RM0.50. Beverage selection is limited to the following 12oz Ice Blended® flavors:
 The Original Mocha
 The Original Vanilla
 Pure Double Chocolate
 Pure Vanilla
(b) This Offer is only valid from 11:00 a.m. to 2:00 p.m. on 20 August 2022.
(c) The discounted price Ice Blended® beverages available for purchase is capped at 1,500 units
only throughout the Campaign Period. Hong Leong Bank has no obligation to inform the
Cardholders should the allocation be exhausted.
(d) Offer is valid at The Coffee Bean & Tea Leaf outlets in Peninsular Malaysia.
(e) This Offer is only valid for dine-in and takeaway.
(f) This Offer is not exchangeable for cash or other items and cannot be used in conjunction with
any other discounts, privileges, promotions, discount schemes, loyalty programs, discount
cards or vouchers unless otherwise stated.
(g) Offer is subject to stock availability at the respective locations.
(h) This Offer is subject to any applicable tax unless otherwise stated.
(i) This Offer is not exchangeable for cash or other items and cannot be used in conjunction with
any other discounts, privileges, promotions, discount schemes, loyalty programs, discount
cards or vouchers unless otherwise stated.
(j) This Offer is only limited to one (1) redemption per receipt. The splitting of receipt is strictly
Terms and conditions apply