You may use the new GrabUnlimited membership bundle to dine, buy, and ride as much as you want from December 1, 2021, while saving over RM400 per month!
Now available for a limited time at a low introductory price of 1 SEN per month (NP: RM9.90).
A subscription pack that lets you enjoy exclusive discounts, special vouchers and speical ride vouchers for all your daily expenses with Grab.

🤩 Bonus Offer! Enjoy these bonus one-time vouchers.

Subscribe starting 1 Dec to get everyday unlimited savings!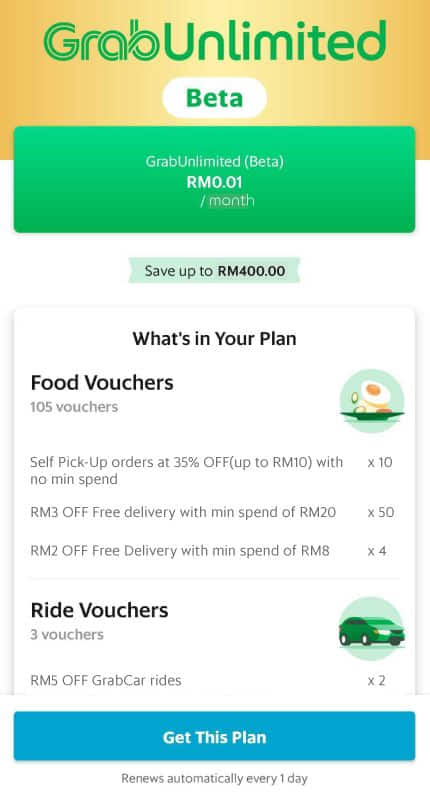 Open your Grab app > Account > Subscriptions
Tap on GrabUnlimited (Beta)
Review the plan details and click on "Get This Plan"
Checkout with your GrabPay Wallet
1) By purchasing GrabUnlimited (Beta), you will be entitled to the following vouchers:
GrabFood Hot Deals, GrabFood Peniaga Kecil, GrabFood Self Pick-Up, GrabFood Free Deliveries, GrabMart Free Deliveries, GrabMart Peniaga Kecil and a bonus one-time offer for GrabCar rides discounts (collectively, the "Vouchers").
2) GrabUnlimited (Beta) is a monthly subscription which entitles you to the Vouchers. Validity of the Vouchers is determined by Grab.
3) GrabCar airport ride discount is applicable for only 1 pick-up from nationwide airports and 1 drop-off at nationwide airports only.
4) Hot Deals and Peniaga Kecil discounts are valid with selected restaurants only.
5) GrabUnlimited (Beta) can only be purchased using GrabPay Wallet.
6) GrabUnlimited (Beta) is only available in Kuching, Johor Bahru and Penang.
7) GrabUnlimited (Beta) introductory price is only available for a limited time period as determined by Grab and Grab reserves the right to make changes to the price of subscription to GrabUnlimited (Beta) at any time.
8) Grab reserves the right to alter, extend or terminate the promotion and/or Vouchers, or amend the terms and condition of GrabUnlimited (Beta) at its sole discretion at any time without prior notice. In case of any disputes directly or indirectly arising from GrabUnlimited (Beta), the decision of Grab shall be final.
9) To the fullest extent permitted by law, Grab shall not be liable for any claim, loss or damage whatsoever incurred by you arising from your voluntary participation to GrabUnlimited (Beta).
10) By opting into GrabUnlimited (Beta), you hereby acknowledge and agree to the above terms and conditions and Grab's Terms of Service . In the event of any discrepancy or inconsistency between the terms of this fine print and the Terms and Policies, the Terms and Policies will prevail, govern and control.